This is the 6th and final part of our series "Our View: Looking Back At 2020." If you missed previous parts in this series, you can read the summaries below and find links to the posts in their entirety.
Part 1 Summary
Our fairly new company had a lot of consulting and training work booked in the first quarter of the year and we were very optimistic. And then, while out on the road, the world changed as the pandemic took hold. (To read Part 1, click here.)
Part 2 Summary
To get the work done, we had to change all of our travel plans and logistics. We worked with our client to make sure we left them with good printing conditions. Then, we began the long – and eerie – voyage home.  (To read Part 2, click here.)
Part 3 Summary
We were on the brink of layoffs when we had our epiphany. We called on our partners in the industry for help and soon we launched a dye sub business making socks and gaiter style face coverings. (To read Part 3, click here.)
Part 4 Summary
How we started up ChromApparel and built a second dye sub lab. (To read Part 4, click here.)
Part 5 Summary
Onsite consulting comes back in the summer and we became flexible with working environments and schedules. We also started to figure out some Etsy trends for ChromApparel. (To read Part 5, click here.)
Part 6: The Business Boom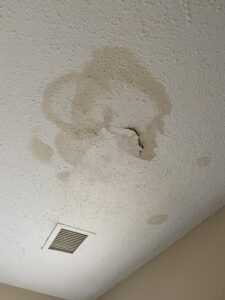 Everything was looking up as September rolled around. We had more consulting jobs lined up and the Etsy store had started to do well. With the combination of Jim amping up the Etsy ads and me creating new themed designs, it seemed like we finally had something going.
Then things took a turn for the worse in my North Carolina dye sub lab. After a few days of heavy rain, I woke up on Sept. 3 and looked up to see the ceiling leaking and cracking right above all my equipment. I scheduled workers to come in the next day to fix it. I spent the entire day emptying out my guest bedroom and moving everything from the dye sub lab into that room. I was grateful that my work tables were on wheels that day.
At the same time, Adobe Creative Cloud – which I used for all my design work – had an update that made all my designs print at 25% of the actual size. This took many hours trying to figure out new settings to compensate for the update.
Production was down in the North Carolina lab for almost the entire week while I struggled with software issues and moved the dye sub from one room to another and back.
Back in business and some experimentation
Luckily, this setback was short-lived. By mid-September, we were getting multiple orders every day from the Etsy store. We were sharing production between the two labs. More bulk orders for gaiters had also come in.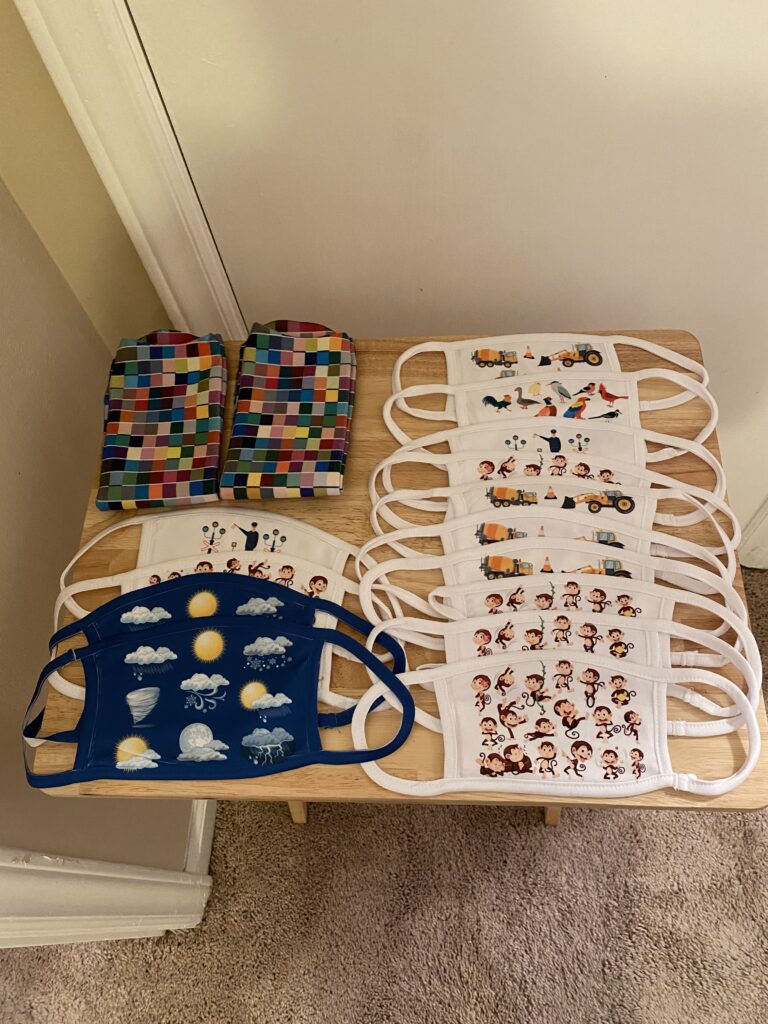 September was also when we started experimenting with new products and web-to-print customization on the main ChromApparel site. Up until now, we had mainly been working with soft surface (fabric) substrates. While we offer customization of socks and masks on the site, the new products we chose for customization were mostly hard surface. For example, we added coasters, puzzles, cutting boards and ornaments. Customers could just visit the site, choose the product they wanted to customize, upload their image and pay. We would then print it and ship it to them.
As for the Etsy store, socks were beginning to sell – probably because of the season change. I added a couple of new items such as dog bandanas and I even have some handmade jewelry available now. But for the rest of 2020, our big sellers would be the holiday themed items and various socks.
Meanwhile, back on the road …
While our Etsy store was ramping up, we still continued to have some onsite consulting. We ventured back to Vegas in September. Again, we chose to stay off the strip. Our perception was that where were more people in town than there was in June; but there were still a lot of restrictions in place.
We took a driving trip from my house in North Carolina to see a client in South Carolina and we visited Florida a couple more times.
Travel and consulting opportunities were a little slower between Thanksgiving and New Year's. But that's pretty typical even in a normal year.
The slowdown in travel gave us the opportunity to start another project and we're pretty excited about it!
DyeSubCast – Our new podcast
This podcast is our new pet project and so far it's going pretty well. It was a great way to end on a solid note for 2020 and to start 2021 with a new vehicle for content. We mentioned our new DyeSubCast podcast in a previous post but here is some more information.
Our description of the podcast: The DyeSubCast is simply the best place to get information about dye sublimation printing. We'll be talking with equipment manufacturers, consumables manufacturers, dye sublimation producers, and we'll also share our own experiences from running a dye sublimation business. It doesn't matter if your new to dye sublimation or a seasoned professional with decades of experience, we're certain there will be something here for you.
We have several podcasts with guests recorded and our second episode debuts today! In this episode, we interview Ray Weiss of Printing United Alliance.
Click here to listen to both the pilot episode and our second interview. If you or someone you know would like to be a guest on DyeSubCast, please let us know!
This is the final post in the series. However, in our next post, Shelby shares her interview with Jim about his outlook for 2021.