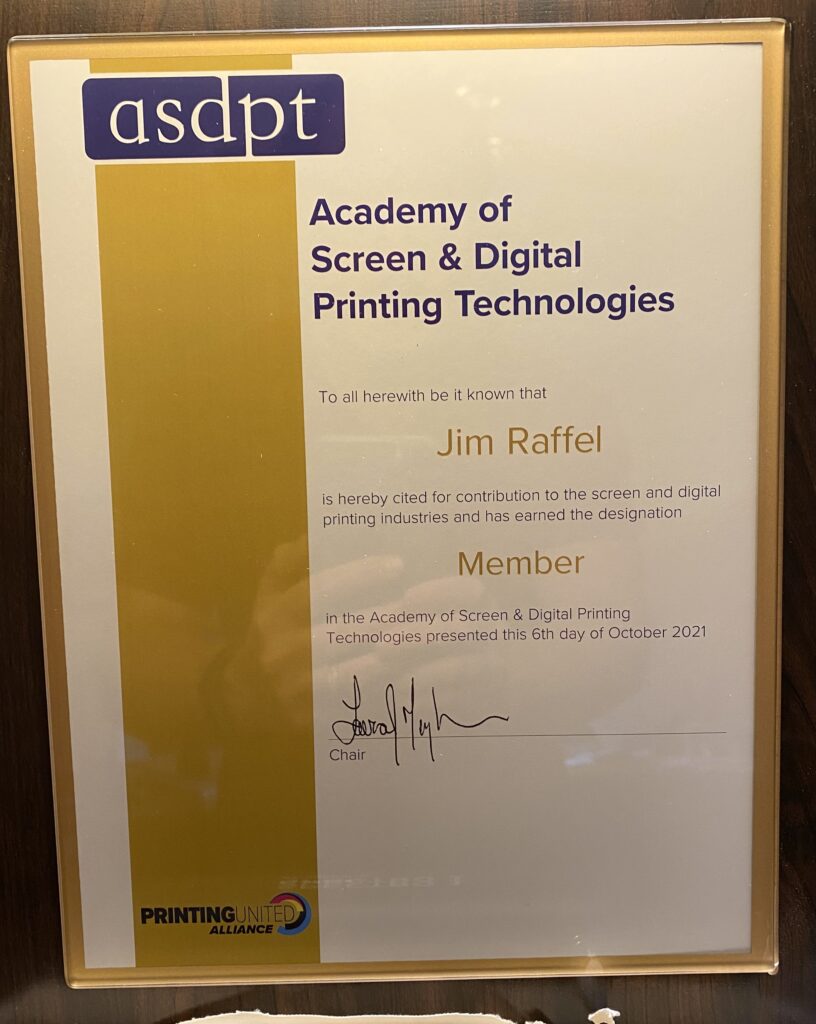 As Jim's business partner, I am thrilled to share the news that he was officially inducted into the Academy of Screen & Digital Printing Technologies.
In an online ceremony on Nov. 10, 2021, Jim Raffel, CEO of ColorCasters LLC, became one of the newest members of the Academy.
The Academy was established in 1973 by the Board of Directors of the Specialty Graphic Imaging Association (SGIA). According to its mission statement, the Academy:
"honors qualified individuals through election to membership for their distinguished, long-term contributions to, and application and promotion of, screen and digital printing and associated imaging technologies for graphic, textile, industrial and electronic printing applications."
I asked Jim a few questions about his new membership in the Academy. Here's what he had to say:
Q: What does it mean to you or ColorCasters or both to be admitted?
A: It's an honor to have the work I've been part of over the course of my career be recognized at such a high level by our industry. In speaking with the member who nominated me, Mike Ruff, I learned that he considered some of the contributions I made going all the way back to my ColorMetrix days a few decades ago. He also was impressed with the contributions I make as part of the ColorCasters team to industry education through the Digital Color Professional program as well as other teaching and writing I do. It's recognition like this that keeps me in a creative spirit when working on new projects like our new SpeckCheck Mobile app even as I approach the end of my career.
Q: You frequently talk about giving back to the industry. How will being in The Academy help you give back even more in the future?
A: Honestly, having only attended a couple of Academy meetings so far, I'm not sure yet. I do plan to be active in the Academy on a couple of committees starting immediately. As the roles of these committees become more clear to me, I'm sure the answer to this question will come into better focus.
Q: What else do you hope to accomplish by being part of The Academy?
A: I want to continue to find ways to both give back to the industry but also to advance new ideas and new technology. As a group, we have the potential to wield a great deal of influence on the industry. So when new and existing ideas or technology are presented to us, I believe it's our responsibility to advance those ideas and technologies.
Please join me in congratulating Jim for his new membership in the Academy. I know he is honored to be a part of this organization and that through it he will make many more contributions to the printing community.