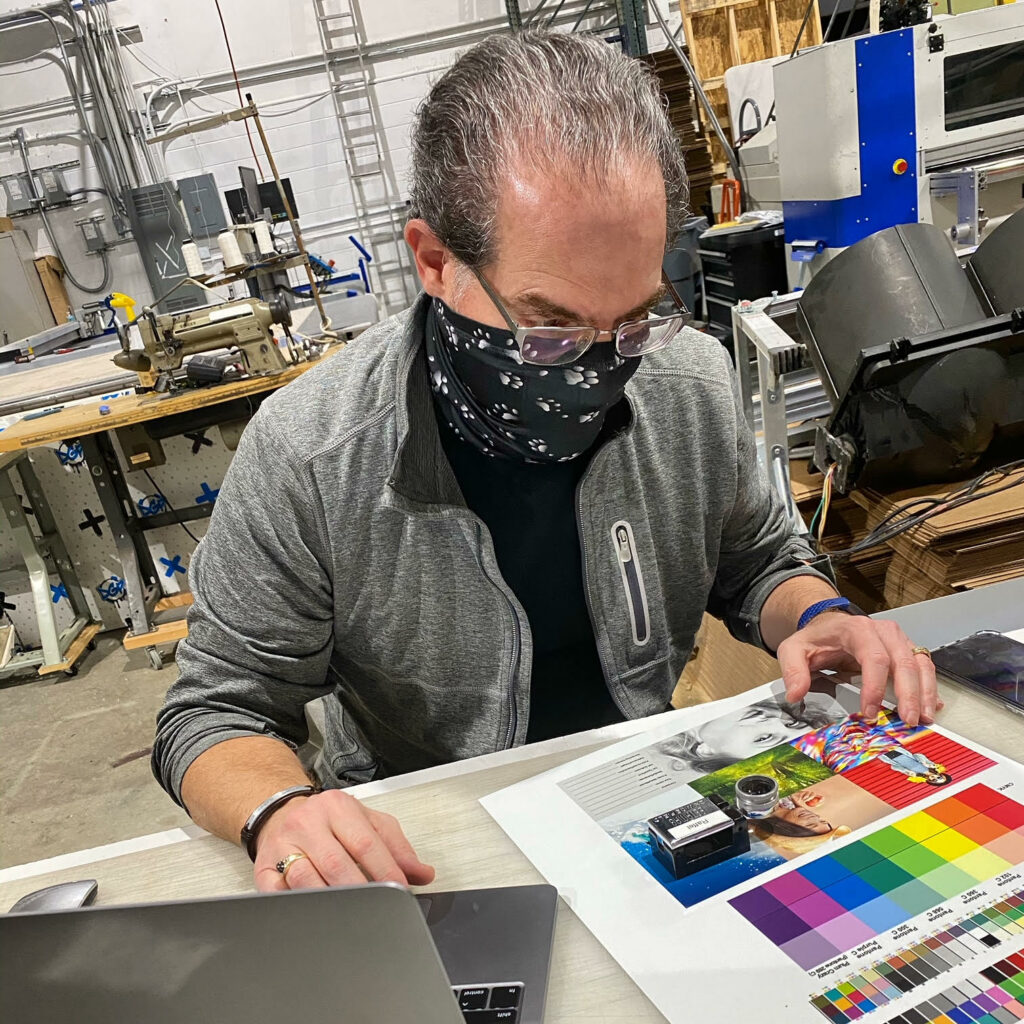 We spent the last 6 posts looking back at 2020. Now it's time to look ahead to 2021. Since I told the story of 2020, I'm going to interview Jim and get his thoughts and perspectives about 2021. We will discuss both our color management consulting and training business as well as our dye sub venture.
The Interview
Q: We are already halfway through January of 2021. How has the start of the year been for the color management consulting business compared to other years?
A: Simply put, we are as busy as we have ever been. I've already been to Phoenix, Orlando and northern Minnesota. Soon, I'll head to Atlanta and then Seattle. My wife recently informed me that I'm only going to be home for six days in January. (Although I'm taking a couple of vacation days at the end of the month.)
Q: What changes have you seen in the printing industry as a result of 2020?
A: My honest answer is that I don't know. If 2020 has taught me anything, it's not just to expect the unexpected but also to expect the unprecedented. As we do this interview, we are are days away from a changing of the guard in Washington D.C. That is likely to bring about changes; some of which can be predicted and some that can't. The printing industry, however, has shown some real resilience during the last 12 months. I'd like to think that will continue.
Q: How has starting a dye sub business helped with the color management business? Were there disadvantages? 
A: I'm going to start with the disadvantage. There is only one of you and one of me. When we are working on ChromApparel, we aren't working on our core business of color management consulting and training. The good news is that what we have learned running the equipment, managing the supply chain and driving sales for the business are all things that give us a greater understanding of the challenges our clients face. We also know more about the workflow that bring digital images to the point of needing color profiles to be produced by an inkjet RIP. We're more well-rounded as consultants.
Q: We talked about how important business relationships are in the printing industry. What's your perspective after 2020?
A: Relationships and audience are currency. The relationships we had allowed us to convert on dye sublimation lab into a production facility and to add a second lab for you in very short order. The audiences you and I have developed on social media allowed us to quickly and easily sell the products we were capable of producing. Who we knew turned out to matter far more than what we knew.
Q: When we started the dye sub business, what were your expectations? What was the biggest surprise (good or bad)?
A: I literally wanted to pay some bills. I wanted to slow the burn rate of the cash we had and keep busy. The surprise was I think we actually made some money doing this. I also don't want to stop because I learn a lot from the mistakes we make and the challenges we face. Plus, it's fun to go down and play in the lab on weekends when Jacob isn't there using the equipment. I have not purchased a pair of socks at retail in a year.
Q: 2020 was riddled with disappointments that we had no control over. But we made quite a few big business decisions over the course of the year. What was your best decision? What was your worst?
A: My best decision was keeping our team together no matter what it took. My worst decision was telling you guys to consider unemployment. It was probably the right decision, but I can't help but wonder if there had been things I could have done long before that to prevent it.
Q: What's your prediction for the rest of 2021 for both ColorCasters and ChromApparel?
A: ChromApparel will be slow for awhile. It's the first quarter, which has not been strong for retail. I think you'll create some holiday surprises (designs that sell for Valentine's Day and others). We could be back in the mask business big time depending what the new administration does. I believe ColorCasters will stay pretty busy through March and beyond that I'm not sure at the moment. I also believe you and I will attend 2-3 trade show type events before this year is over.
Q: We recently started a podcast and we ask this question to each of our guests. Now it's your turn. What's your favorite color and why?
A: Black and all the shades of gray that come from it. I answered this on the podcast you couldn't make, so you'll have to listen to Episode 3 for the why. 🙂