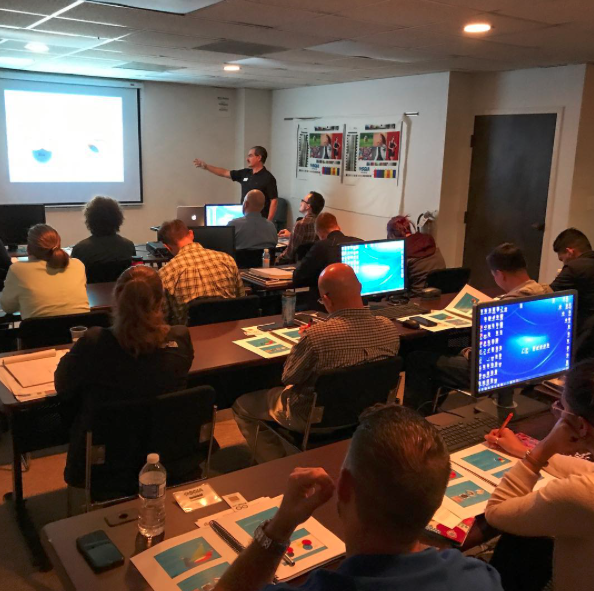 Here is a list of upcoming events and workshops for our ColorCasters team. Some are workshops we are leading, some are events at which we are speaking and we've even listed the trade shows that we will be attending. Use the links to connect with us about a specific event. We look forward to seeing you!
2021 Events
---
In-Person Color Management Boot Camp Sponsored by NUtec Ink – Miami – Aug. 31 to Sept. 2
– Hands-on profiling with working printer(s) and instruments
– Instructors with deep real-world knowledge
– Free Color Management Essentials for Attendees
– Spanish translator will be available
Click here for more information and to register.
*This in-person workshop has limited seating. Reserve your space as soon as possible!
---
Hybrid Color Management Boot Camp – Sponsored by Mimaki USA
Sept. 8, 14-16
THE AGENDA
Wednesday, September 8 (online)

There are sections of the agenda that do not require hands-on participation. While we will make recordings available to attendees, we recommend attending in real time so that questions can be asked and answered. If attendees do not attend the live online workshop, it is their responsibility to watch the recordings before the in-person portion of the boot camp. The following portions will be taught online.
Basic Color Theory
Color Targets
Anatomy of Inkjet Printers
Measurement Devices
Color Verification
In-Person Agenda (One day on either Sept. 14, 15 or 16)
At Mimaki's Irving, Texas, facility

The in-person, hands-on portion of the agenda will be held in one day from 9 a.m. to 5 p.m. at Mimaki's Ivring Facility. This portion of the boot camp will be held on September 14th, 15th, and 16th There will be no more than six participants in attendance on a single day.  These sessions will not be recorded.
Lunch will be provided. We will be following CDC and state guidelines listed at the bottom of this page. The following portions will be taught in person.
Monitor Calibration
Color Management Pyramid
Profile Creation
Spot Colors
Each day attendees will have two 5-10 minute breaks if attending live and online.
Recordings of all sessions will be provided for up to 30 days.
Click HERE for more information.
---
ColorReady 2021 via Printing United Alliance
Recordings available for all presentations until Aug. 30, 2021!
Jim Raffel's presentation is "The Top 10 List: Most Common Color Management Problems and Solutions."

Shelby Sapusek's presentation is "Color Management in Adobe InDesign."