This is Part 3 of our series "Our View: Looking Back At 2020." If you missed previous parts in this series, you can read the summaries below and find links to the posts in their entirety.
Part 1 Summary
2020 started off with a bang. Our fairly new company had a lot of consulting and training work booked in the first quarter of the year and we were very optimistic. And then, while out on the road, the world changed as the pandemic took hold. (To read Part 1 in its entirety, click here.)
Part 2 Summary
To get the work done, we had to change all of our travel plans and logistics. But it was important to us that we honor our commitments. We worked with our client to make sure we left them with good printing conditions. Then, we began the long – and eerie – voyage home. We knew this would be our last travel day for awhile. (To read Part 2 in its entirety, click here.)
Part 3: Finding Our Way
Now what?
That was probably the question on everyone's mind in mid-March when the pandemic changed just about every aspect of our lives so abruptly.
For us, the next month would prove to be our most frustrating one of 2020.
How could we survive?
About a week after we traveled home from that last consulting gig, the lockdowns and stricter mandates started. We began to understand the severity of our situation – not just personally but for our business too.
Just as the upcoming Color Management Boot Camps were canceled for the foreseeable future, so were our other consulting and training dates. While we had a few other sources of revenue, our onsite consulting and training was really what made our business. Without it, how would we survive? And how long would we be without it?
I'm sure many people can relate when I say that this uncertainty was more than a little frustrating.
Jim and I spent hours on the phone trying to come up with a realistic plan. What could we do online to compensate for what we were missing?
We felt like online consulting would take awhile to figure out. But what about training? We could easily create slideshows and come up with an online training module. We could charge modest fees for attending live or watching a recording. And we already had plenty of material from our trade show talks over the years.
With nothing much else to focus our attention on, our first episode of The Jim & Shelby Show launched pretty quickly – on March 31st.

The show kept us busy and entertained for a couple of weeks. It even helped pay a few bills; but it was nothing near what we needed to stay afloat.
There seemed to be no end in sight to the pandemic. No consulting jobs were coming through. Onsite training and trade shows were still side-lined. We started to realize that we were just delaying the inevitable.
By mid-April, we had to tell two of our employees to start exploring unemployment options. That was not our best day.
The Epiphany: It's who you know
We had to plan for the restrictions associated with the pandemic to go on longer than we expected. That meant we needed yet another new plan.
That's when we had the epiphany. We had forgotten about one of the most important rules of thumb in the printing industry: It's who you know.
The printing industry is one of the tightest when it comes to helping each other. Over the years, we have built many strong relationships and partnerships. Our answer was in the relationships we already had.
One of the relationships we have is with a company called Sawgrass, which specializes in dye sublimation technology. In 2019 and long before the pandemic, they had sent Jim one of their printers and some ink and paper so that he could build profiles for them off site. Jim spent some time turning the basement in his home into a partial dye sub lab.
Once that was set up, we experimented with different substrates such as shirts and coasters. We ordered blanks from different vendors and tried the new profiles out on them.
One of the vendors we sourced from at that time was a company called Vapor Apparel. They sell all sorts of blanks for dye sublimation. We played around with shirts, socks, coasters, etc. One of the first custom items we made were matching shirts with our ColorCasters logo on them. We figured these would be great to wear at trade shows in 2020.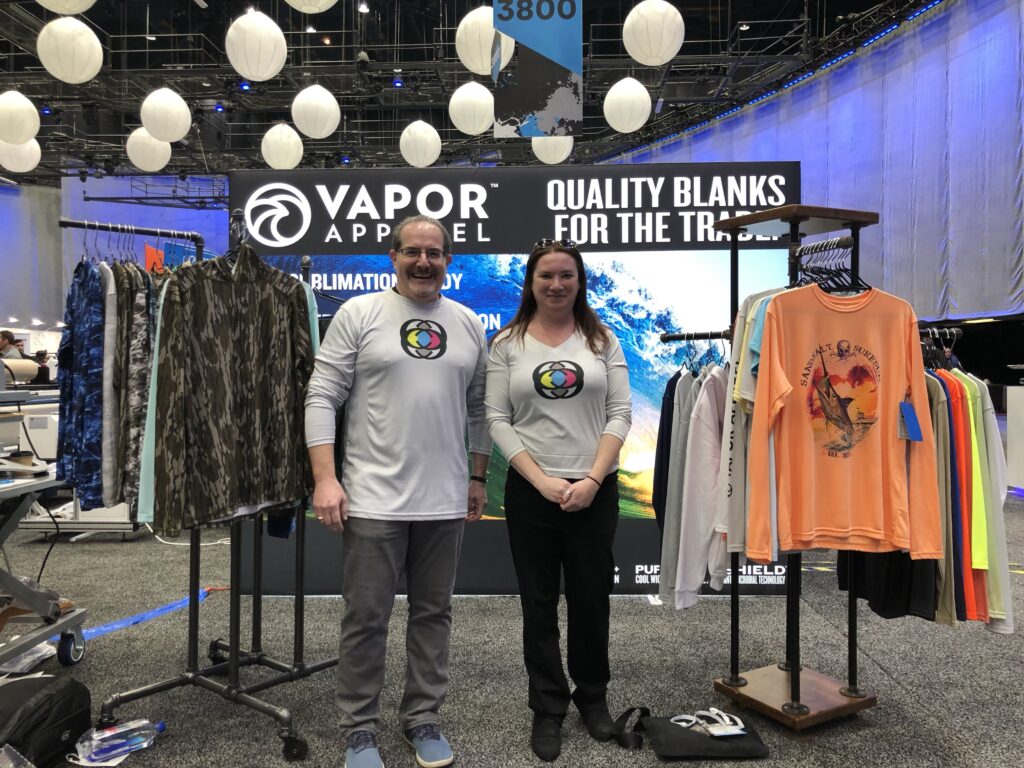 Getting lucky outside of Vegas
Call it luck or good fortune or whatever you want; but Jim and I made a decision in January of 2020 that very well may have saved our business. We just didn't know it then.
We had a long stay in Las Vegas in mid-January. We had two consulting jobs – one at the end of one week and another at the beginning of the next week. Jim lives in Wisconsin and I live in North Carolina and it just didn't make sense to fly across the country and back for one day at our respective homes.
So we did a little research and decided to take a one-day, there-and-back trip to Long Beach, California, for the Impressions Expo, which focuses on decorative apparel. We planned ahead and packed our new shirts.
That short trip might have been our most important one in 2020 because of a new connection we made.
As we wandered the show floor that Saturday, we happened upon the Vapor Apparel booth and, while wearing our custom Vapor Apparel shirts with our logo on them, we met owner Chris Bernat. Of course, he recognized that we were wearing his product and we talked for awhile. He even took a picture of us standing in front of the booth.
As we were leaving, Chris said, "Let me know if there's ever anything I can do for you." We thanked him; not knowing that less than 3 months later, we would be taking him up on that offer.
Remembering that we had this new connection along with our partnership with Sawgrass made everything fall into place. After a few calls, emails and online discussions, we had our next plan. Again, it all happened quickly. By late April, we had invested in some inventory through Vapor Apparel and were ready to start our own dye sub business. In the beginning, we were focused on socks and gaiter style face coverings.
Jim read the virtual room (a role that I would assume in the coming months) and mentioned that we had access to gaiters on his social media channels. He spun the reels and it hit. We got our first order and it was for 1,000 gaiters.
Around the same time, we received our PPP loan, which helped us make some decisions. We went from doom and gloom in mid-April when we told two employees to research unemployment to having a new opportunity in late April and needing everyone to be all hands on deck.
Suddenly, things were looking up. We were lucky and we knew it. And the month of May would bring about more positive changes.
Tune in to Part 4 to learn more about our new dye sub adventure.