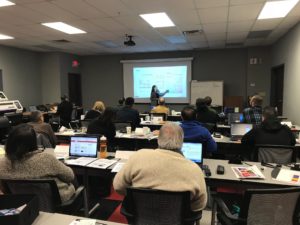 I just finished looking at my friend Chris Brogan's resource page about blockchain technology (the underlying technology layer of bitcoin), and it made me think about how and why I learn.
I'll start with the why; because it is easier for me to answer. I learn because my job is to teach and do. In order to teach and do color management at the highest level, I myself have to maintain a skill set that is up to date with the newest and brightest technology.
But why should you take the time for color management training?
Color management education could be important to you because you are about to purchase new printing equipment and RIP software.
In that case, you would want to be sure that you purchase best equipment you can afford, based upon your application. You could simply trust what the salesperson tells you or you could do some of your own research and learn to better understand what's new in color management technology.
Keeping abreast of the latest trends and new technology
I've been watching iccMAX technology since I first heard about it about 18 months ago.
Over the next few years, iccMAX profiles and the technology that drives them will begin to show up in the leading RIP software. Does that mean your RIP needs iccMAX functionality in its next release?
Maybe or maybe not. You may need to take some time to learn more about what iccMAX can do for you and what you have to invest to get that functionality.
How you learn should drive your training choices
Personally, I learn best in a classroom/hands-on environment or by reading. For some reason, I don't learn as well through audio or video and that's okay.
For the SGIA Color Management Boot Camps we organize, I've been spending time getting up to speed on iccMAX technology and the new SCTV method of measuring spot color tints. I'm doing that so I'll be able to inform attendees what that coming technology could mean to them. For now, we cover that in the classroom portion of the workshops; but as time goes on we'll add hands-on exercises too.
If you learn best in a classroom/hands-on environment, then it's likely you would benefit from attending one of our SGIA Color Management Boot Camps.
By doing so, you can begin making more informed decisions about the consumables such as media and ink that you purchase on a daily basis. Perhaps more importantly, you can begin to formulate plans for your next generation of equipment purchases based upon your knowledge and not that of your favorite salesperson.