The Perfect Color.
It's what brand owners demand for their companies and products.
It's what print shop owners and operators look to provide to their customers.
It's what we as color management consultants strive for every day.
And it's what color forecasters try to predict through a long and complicated process each year.
'What Is The Perfect Color Worth?'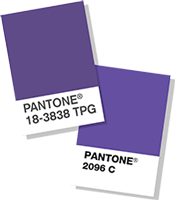 In the past, we have written our own article about how Pantone LLC determines the color or colors of the year. And although it's a complex process, the announcement of the Color of the Year influences international industries such as fashion, interior design, retail, etc.
For 2018, Pantone announced that the Color of the Year is Pantone 18-3838 Ultra-Violet.
The New York Times recently published an article called "What Is The Perfect Color Worth?" in which they go into great detail about how the perfect color is determined. While it's a long read, it's also an intriguing one.
They spend time with David Shah, editor and publisher of the "Pantone View Colour Planner," and quote his conversations with other color forecasters as they try to figure out the zeitgeist, which is the mood, ideals, beliefs and/or tone that motivates people during a certain period in time.
As quoted in the article:
What is the zeitgeist going on in the United States about color?" Shah asked. "Are they big colors? Are they strong colors? Prime colors?"

"I think what's going on in the United States now is that it's all happening," the woman replied.

"Accidental colors," Shah said, coining a phrase.

"Exactly, and different from what it's been before," the woman said.
If you work with color or just have a general interest in it, "What Is The Perfect Color Worth?" is a fascinating read and we highly recommend it.
As a side note, the article points out that the reason you might be familiar with color forecasting at all is due to a particular scene in the 2006 film "The Devil Wears Prada" in which fashion magazine editor in chief Miranda Priestly (played by Meryl Streep) lectures her new and fashion challenged assistant about her lack of knowledge about the color blue.
In the scene Streep quips
That blue represents millions of dollars and countless jobs. And it's sort of comical how you think that you've made a choice that exempts you from the fashion industry when, in fact, you're wearing the sweater that was selected for you by the people in this room."
It's definitely true that color forecasters and their color predictions are responsible for millions of dollars and countless jobs around the world.
We encourage you to watch the Blue Sweater scene below:
If you would like to learn how to reproduce those perfect colors, then it's likely you would benefit from attending one of our SGIA Color Management Boot Camps.