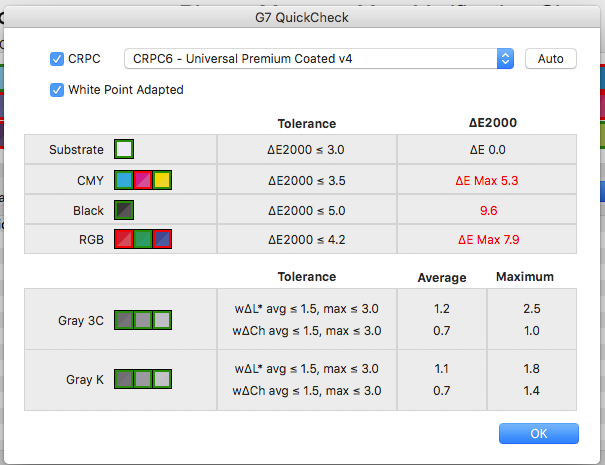 Over the last several weeks, we've been working on the addition of an exciting new feature for our sister company ColorMetrix's ProofPass product. The new feature which we are calling G7 QuickCheck is actually much more than that, but I'll get to what I believe is the coolest feature later.
The Basics
First, let's talk about the basics of troubleshooting color issues. In the world of inkjet printing, if your profile is not built to a gray balanced specification based upon the substrate you are printing on, then all is lost in my opinion. And when it comes to gray balance evaluation, the G7 method created by Idealliance is the way to go.
The basic functionality of the ProofPass G7 QuickCheck is to evaluate a measured verification strip against any of the 7 Characterized Reference Print Conditions (CRPCs) either with or without white point adaptation applied. While no overall pass/fail is reported, areas of concern are highlighted in red. This allows for a quick evaluation of the gray balance, CMYKRGB solids and substrate conformance to the CRPC selected.
Cool Factor
The coolest feature is the ability to let the QuickCheck utility automatically select the most appropriate CRPC based upon the measured values. When setting up a new client this will prove very useful since aiming for the right target, based upon the ink technology and substrate available, is critical to proper ongoing process control.
Other Enhancements
Along with the addition of 64-bit versions for both Windows and Mac as well as enhanced database performance, this next release of ProofPass promises to be the best in awhile. For users of our G7 Calibrator (currently available only in the Windows release of ProofPass) this will prove to be a very useful addition to your ProofPass subscription.
Currently we are offering attendees of ColorCasters organized SGIA Color Management Boot Camps a no charge 6-month subscription to ProofPass Pro (a $500 value). When available, this will include the G7 QuickCheck upgrade.