One thing we can probably all agree on is that there are many variables when it comes to the color management of print materials.
When a job comes off the printer and the color isn't right or what we expected, there are many different aspects of the printing process that could be contributing to the problem. It could be the printer's nozzles or other print head issues. It could be the printing environment. It could be the file being printed itself.
To minimize the guesswork in determining what the problem may be, we follow a series of procedures and checks when it comes to color management. Some of them include performing a nozzle check on your printer every day, using certain color management settings in your software programs and calibrating your computer monitors.
One Aspect: The Importance of Monitor Calibration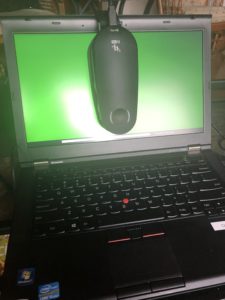 We recently spent an entire day at a client site calibrating more than a dozen monitors. They wanted all their monitors that were used to view color to be calibrated to the same known condition. This included the work stations of graphic designers, print specialists and photographers.
A properly calibrated monitor allows you to view color more predictably in relation to a standard color space such as GRACoL. It can take into consideration your ambient lighting in your work area. And if you calibrate several monitors to the same specifications, each work station should be able to see similar and consistent color.
It should be noted that results can be limited depending on the types of monitors you have in your work environment along with their age and capabilities. When we worked to calibrate more than a dozen monitors at the recent client visit, we actually found that at least one monitor was not up to standards and needed to be replaced.
How Do You Calibrate a Monitor?
To calibrate a monitor, you need three things:
A quality LCD monitor (Typically one that costs $1,000 or more for high-end work.)
A spectrophotometer – We typically use the i1 Pro 2
A software program – We typically use i1Profiler
Note: Many high-end monitors include a calibration device and software.
The i1 Pro 2 isn't free; but if you're serious about color management and interested in monitor calibration, you probably already have an instrument.
The i1Profiler software from Xrite is a free download and there are PC and Mac versions.
But you're also going to need a little knowledge. The i1Profiler software isn't quite that self-explanatory and you'll need a little training to understand which settings to use and to get through the profiling process.
Set Yourself Up for Success
Monitor calibration is a topic we cover in our Color Management Boot Camps. You can view an agenda and the dates and locations of upcoming workshops on our Events Page. You can also hire us for color management consulting at your own location and we can include monitor calibration as part of the process. Contact us if you have any questions.
Also, we are working on a How-To Guide for monitor calibration that we can give to our clients who hire us for consulting work. Stay tuned for more information on that.
While there are still plenty of things that can go wrong even if you perform tasks like monitor calibration, we have found that if you set yourself up for success in the beginning, you'll be able to better analyze and solve any color management problems that arise.