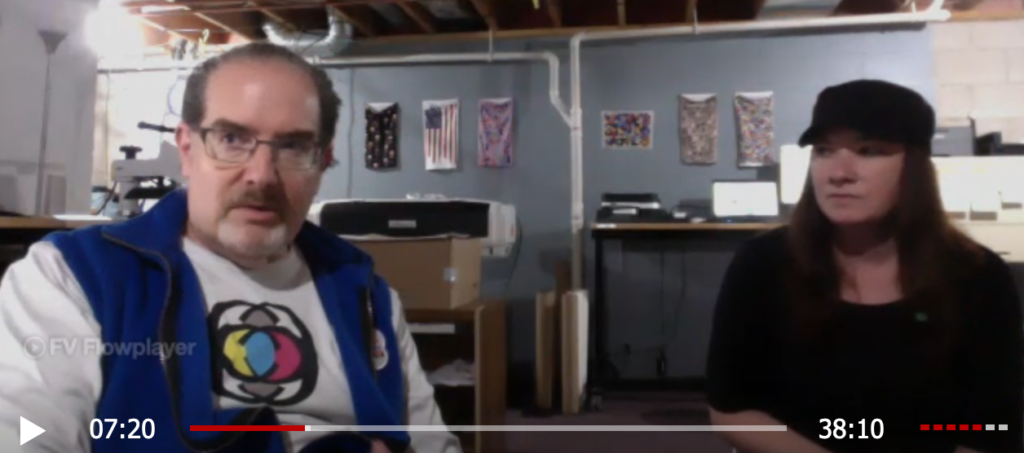 Are we all getting tired of Zoom meetings yet? I'm not sure it matters because it sure seems like meetings, training and even trade shows are going to continue to be held virtually for the foreseeable future. We just have to adapt and embrace it for now.
I'm mostly okay with it; although it was an adjustment. Ask pretty much anyone I know and they will tell you that I would usually refuse to use FaceTime. I hated video calls until recently. Now not only have they become a necessary evil, I've become rather fond of them.
Transitioning From Online Conversation to Virtual Training
For the last few years, we have been spending much of our time on the road doing color management consulting and training. When travel was taken away as an option, we decided that we wanted to find a way to offer some form of online training. We realized that was easier said than done.
As we saw it, there were three problems with online training.
Training topics. No matter how you slice it, there are just some training modules that can't be shifted online and still be as effective as it is in person. We needed to identify those modules that could transfer into virtual and still be valuable.
Timing. We have clients all over the country. When we are on site for training or consulting, we are dealing with one time zone. Obviously, that's not true with virtual training. We also understood that even if attendees were currently working from home, that doesn't mean that they have time to dedicate to training. We have talked to many clients who transitioned to working at home and some have indicated that they are actually putting in more hours than when they were working from the office.
Cost. We have a pretty strict and simple business model. We don't work for free. But we also understand that many people in our community have found themselves in an unexpected financial bind.
So those were the problems. Below are our solutions.
1. Topics? Make It Valuable.

People show up when you offer them something of value. You might think that would be obvious. But what would our audience find most valuable during this time period?
Our answer came with our introduction of the Jim & Shelby Show. (I'm still not sure why Jim gets top billing except that it just sounds better when you say the words.) We made our tagline: "Virtual Training Workshops – Learn & Laugh."
We have held three shows with topics such as how to sell color. We even did a show where we gave attendees a peek into our dye sub lab and explained our temporary pivot into designing and printing our gaiter style face coverings.
2. Timing? Make It Easy.
Since it was going to be difficult to find a time that worked for everybody, we decided that we would always record the training. That way, people could sign up and even if they couldn't attend, they would get the recording of the training.
Conversely, we also made the recordings available for anyone who wants them at any time. The recordings can be found on this page on our site.
3. Cost? Make It Affordable.
Things are uncertain and it makes sense to be watching your dollars right now. So while we weren't willing to give away everything for free, we wanted to make the online training as affordable as we could. Honestly, we just wanted to cover a few costs; such as our premium Zoom subscription.
We kept the training sessions and recordings as low as we possible could; sometimes only charging $20 for an hour-long workshop.
What's Next For Our Virtual Training?
What's coming next is bigger than the virtual training we've hosted so far. We will do a live online Color Management Boot Camp the week of June 22. This workshop is sponsored by Mimaki USA.
So how will this boot camp work online? Well, we looked at the same considerations for the Jim & Shelby Show training sessions.
Value: Attendees will be able to take the test to become a Certified Digital Color Professional via Printing United Alliance (formerly SGIA) for free. They will be mailed a physical notebook or emailed a pdf version (depending on timing of their registration). All of the same material will be covered. However, a profile creation session will be free but optional and a personal lab session for making profiles will be offered at an extra cost.
Timing: The in-person workshop is typically two full days and one half day. Much of the second day is hands-on profile creation. We have changed this to a free demonstration and/or a personal lab session for an additional cost. The class portion is Monday, June 22, through Thursday, June 25, from 2-4 p.m. EST each day. The optional profile demonstration will be on Friday, June 26, from 1-4 p.m. EST. Personal lab sessions will be scheduled accordingly. (Sorry, we will not be providing recordings of the boot camp.)
Cost: We have done our best to keep the boot camp affordable, but we have to cover our costs as well. Usually, the Color Management Boot Camp is $799 per attendee. We have lowered that to $399, which includes the classroom notebook (a $125 value) and the fee for taking the certification test up to two times (a $75 value). We will charge extra if attendees want a personal online lab session.
So, is this boot camp for you? If you aren't sure, we are hosting a free boot camp preview session on Monday, June 15, from 2-2:30 p.m. EST. Click here to sign up for that preview.
If you are ready to register for the boot camp, you can do so on this page.
We hope you will consider attending our next live online training session. As always if you have any questions, please don't hesitate to email me at shelby@colorcasters.com.