If you follow us on social media, you've probably noticed that we like to share cool color content from others in our community.
But it's been awhile since we've put some of them in a roundup and explained why we share this content. We've also found some new ones. So here are some of our favorites:
Colorschemer
Network: Twitter
Handle: @colorschemez
What it is: While we aren't usually fans of bots, this account is run by one. But at least they are up front about it. It claims to find a trio of colors that go well together as a color scheme and sends out an image with those three colors.
Why we love it: Whoever programmed this bot has a great sense of humor. The names of the colors has made us laugh more than once.
Color Palette Cinema
Network: Instagram
Handle: @colorpalette.cinema
What it is: The account is used to capture a frame in a movie and pull out every color in the image to create a color palette below.
Why we love it: It effectively demonstrates how color is used in theater to affect us psychologically.
Colors For You
Network: Facebook
Page: Colors For You
What it is: This page posts striking images with one element in full color while the rest of the photo is in black and white. The images are posted without comment.
Why we love it: The simplicity of this project is brilliant and the images are just beautiful. It's also a great reminder of how powerful grays can be.
Share and Share Alike
And finally, we would like to share an interesting blog post from our friends at Invaluable.
About a year ago, we published "How Is Pantone's Color of the Year Decided?"  Taylor from Invaluable read the post and reached out to us out of common interest.
We were also provided a link to one of their recent posts "Pantone's Color of the Year: Selection and Accuracy." The writers at Invaluable created a timeline of Pantone's Color of the Year since 2000 when the practice began. Then they took the meaning of each color and tried to match it with a major event that occurred during that year.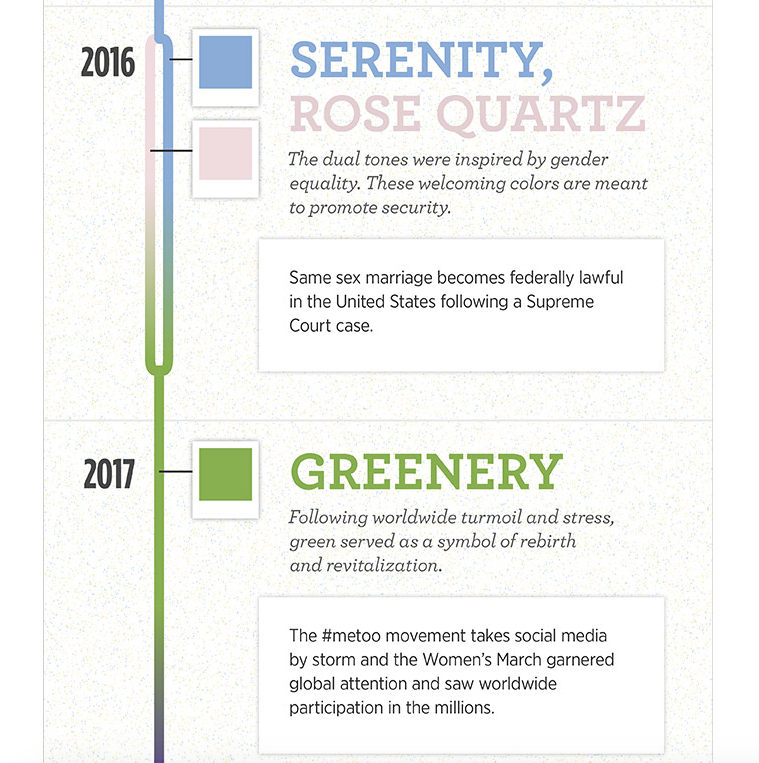 The results are interesting. Give it a read and check out the timeline.
And don't forget to join in the conversation with us on our social networks! Find and follow us on Facebook, Twitter and Instagram!