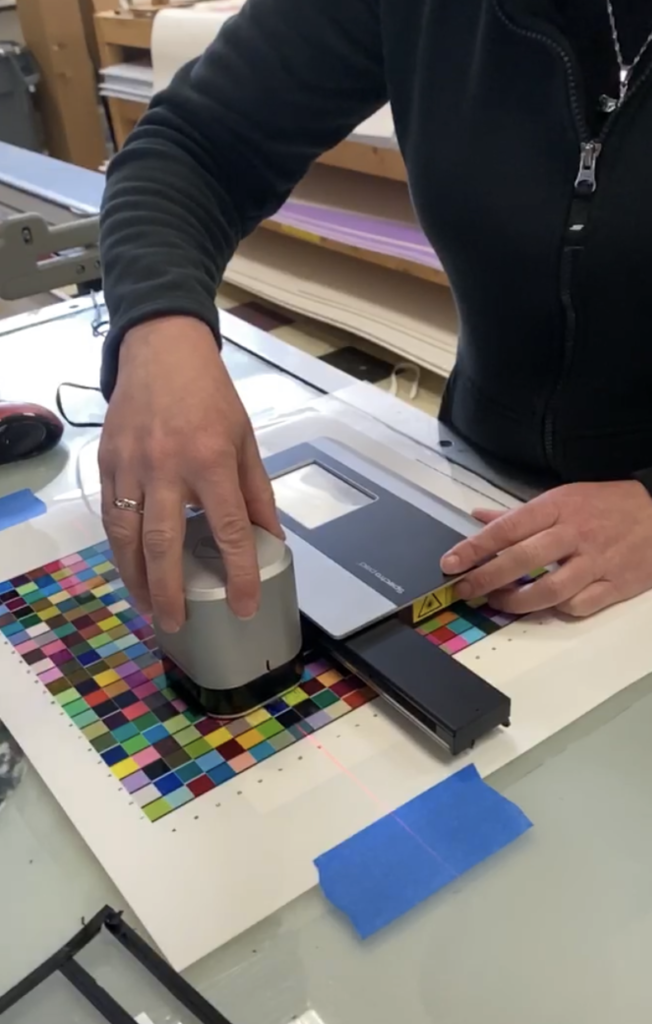 Dear colleagues, clients and friends,
Our journey over the past few months – perhaps much like yours – has not been an easy one. We had to make difficult decisions professionally, financially and personally to try and find the best route back to doing what we love to do.
Today, we are happy to announce that we have found our way. We are beginning the pivot back to color management consulting and training.
We have been as transparent as we could be. We explained in a blog post early on about our pivot into dye sublimation printing and ultimately designing, creating and selling gaiter style face coverings. Doing this allowed all of us to stay off the unemployment line. It gave us purpose and helped to pay some of our bills. It kept us and our company in business.
Honestly, none of us thought this pivot would be as successful as it turned out to be. We were hoping that it would be successful enough for us to tread water until we could get back out on the road helping clients with their color management process.
We stressed that this was a temporary pivot. Our intention was not to get into the dye sublimation printing business. The last lines of that blog post summed up our position perfectly.
And most importantly, when this is all done – we're going back to being color management consultants and trainers. It's who we are, it's what we do."
It's amazing what you can accomplish in a short time period if you put your mind to it. In just a few weeks, we came up with an idea, sourced out materials and created two labs complete with printers, heat presses and spectrophotometers.
We have come to realize that the value of these two labs isn't the creation of the face coverings for our storefront. The value is that we now have firsthand real-world experience in dye sublimation production printing enviroment.
As color management consultants, we will undoubtedly be able to create better dye sub profiles and better troubleshoot the many variables that come along with dye sublimation printing.
We believe we have inadvertently made ourselves better consultants for the dye sub industry.
But this part of the journey is slowly coming to and end for us. We are ready to start a new one.
Current and prospective clients are making requests for onsite color management consulting work. We'll likely have our first trip in just a couple of weeks and we are booking dates for the balance of June and July.
So what does that mean for our face covering project?
A couple of weeks ago, we held a special virtual Jim & Shelby Show to give people a sneak peek into one of our dye sub labs. You can view it by clicking here.
During that show, one of the attendees asked us if we were really just going to shut down a successful project when we were ready to go back out on the road as consultants. We admitted that we had been considering a different approach. Now we are ready to explain what that is.
You may have noticed that we have taken some of our face covering designs and re-purposed them into different styles of socks. Soon, shirts will be available too.
We've recognized that another business has been created and it should be treated as one.
So over the weekend, ChromApparel.com has launched. All of our available face coverings and socks are on that site as of today. We, as ColorCasters, are slowly handing this website and product line off to a family member to run and, from our company's point of view, we will begin to limit our association with it.
We, as Jim and Shelby, will still help out during the transition. We will also continue to promote these products on our own personal social media accounts.
Within the next few days after we wait for ChromApparel.com to fully launch and stabilize, we will be removing the face coverings from ColorCasters.com.
We are excited to ease back into our color management consulting business. We want to thank all of you for your words of encouragement, purchases or both during the last few months. Your support has been invaluable.
We will see you out there soon.
Sincerely,
Jim & Shelby
ColorCasters Team