Last week, we partnered with Mimaki USA to conduct two half-day workshops, Color Management 101 and 201. Following are the images and videos from some of our social media posts which provide a glimpse into what the two days looked like.

Day 1
We kicked off with a couple hours of color theory and the basics of color management. The Mimaki SMART training room was a great venue for this workshop.
The Lecture
Here is some Facebook video of CEO Jim Raffel discussing RGB (additive color) and CMYK (subtractive color). Without understanding basics like this, moving ahead with creating custom ICC profiles and other color management tasks is difficult at best.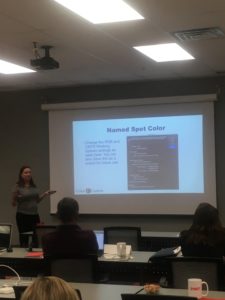 CMO Shelby Sapusek jumped into action to share her knowledge about the design side of color management gained from more than 17 years in the newspaper industry. She focused on the importance of adjusting the default color settings in the Adobe applications as well as how to created named spot colors. The power of a named spot color is that it can then be managed separately in the inkjet RIP later in the color management process.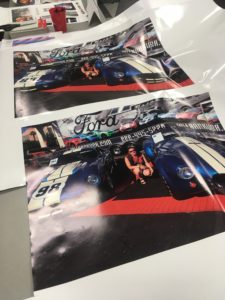 Wrapping up Day 1
We wrapped up Day 1 producing test prints using canned (or manufacturer provided) profiles with two different sets of color management settings. (By the way, how do you like our unofficial, official ColorCasters test image? We call it "Shelby, Shelby, Shelby" or "Shelby Cubed." If you're not a car buff, both those vehicles are Shelbys and of course that's ColorCasters' very own Shelby in the middle at last year's SEMA show.)

Day 2
Day 2 focused less on theory and more on how to create a custom ICC profile. In the FaceBook video above, Jim discusses how the G7 method can be useful for creating high quality custom profiles. The lecture portion of Day 2 was short because we dug right into the process of building a custom profile using Mimaki's Profile Master 3 (or MPM3) software. Jim's favorite part of the process was using the i1 Pro2 iO table to take measurements.

Wrapping up Day 2
We wrapped up Day 2 talking about color verification and process control. These are some of our favorite topics and we demonstrated both ColorMetrix ProofPass/G7 and SpotOn! Verify software packages. And when all the fun had been had, we handed out signed certificates of completion. It was a great couple of days!