The rumors are true. ColorCasters owners Jim Raffel and Shelby Sapusek truly are certifiable. But they are doing it for current and future ColorCasters customers.
It's About the Education
The ColorCasters company was created out of a recognized need in the print industry for more training and consulting in color management.
Before we even launched ColorCasters, we made a commitment to ourselves – and silently to our customers – that we would make our own education a priority. We knew that by doing so we could ensure that we were always up-to-date on industry trends. So we started 2017 with a plan to further our education and earn more certifications.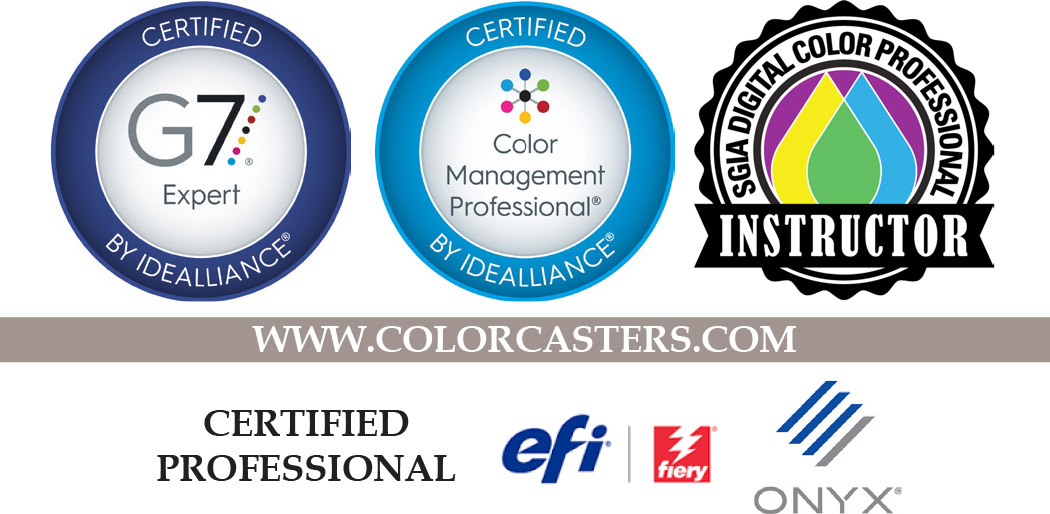 Our Certification Journey – So Far
In 2016, Jim became G7 certified. Since then, he became an SGIA Certified Digital Color Instructor and has since been teaching the quarterly SGIA Color Management Boot Camp.
At the beginning of 2017, Shelby attended the Color Management Boot Camp at SGIA headquarters in Fairfax, Va. She then went through the steps to become a Certified Digital Color Professional.
In the summer of 2017, Jim and Shelby attended classes and earned certifications for EFI Fiery XF and Onyx RIP software as they pertain to color management.
What Does Our Education Bring To You?
Our ongoing education and certification processes ensure that we are providing the best color management consulting and training. It also allows us to open up extra training opportunities around the country.
SGIA has authorized us to run its formal Color Management Boot Camp at other times and locations. Our first boot camp will be held at Mutoh's Phoenix facility from Oct. 24-26. Attendees of this Color Management Boot Camp will be provided the same training as those held at SGIA headquarters and be given the opportunity to become an SGIA Certified Digital Color Professional. Register and find out more about the boot camp. Space is limited!
We also work with Mimaki to teach Color Management 101/201 courses at their headquarters in Atlanta. The next dates are Dec. 13 and Dec. 14. Learn more about each workshop:
Contact us if you would like to learn more about our workshops and/or would like to host us!