Description
ONYX Advantage programs: 
Choose the right program to match your software.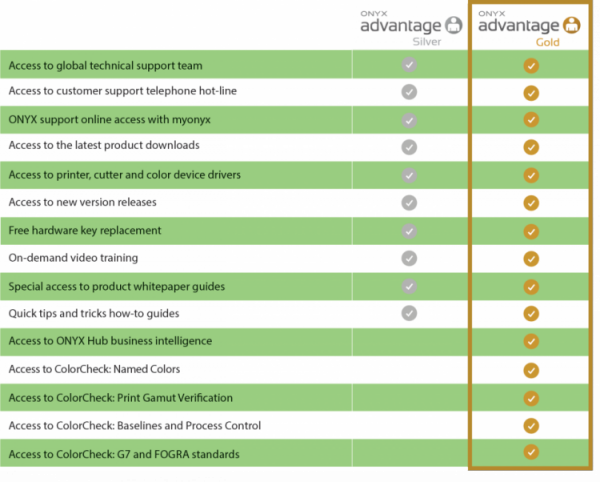 ONYX Advantage Gold and Silver are premier programs for the ONYX SiteSolutions family of products including ONYX Thrive, ColorCheck, and ONYX Hub.
ONYX Advantage is also available for our RIP products including ONYX RIPCenter, ONYX PosterShop and ONYX ProductionHouse.
Did you know?
ONYX Advantage holders receive new version and update product releases of ONYX software through an online portal as part of the annual subscription
Global Support with a online support and a call center hotline
New Drivers every month which adds to our existing library of over 2500+ devices
ONYX is the way to build ICC profiles, the results with this latest version are stunning. The improvements I've seen really raises the bar.
ColorCheck works very well indeed. Being able to prove color, match standards and maintain consistency helps my customers and my business.
– Kevin Stallibrass, Paper Graphics
ColorCheck is a module available with an ONYX Advantage Gold subscription.
*ONYX Advantage for RIPCenter limited to RIPCenter family of available printers