Description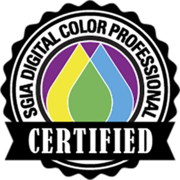 "The instructors all were very resourceful and willing to help with the questions I had." — Tommy Naverette, Bluemedia
What's Color Management Boot Camp? Visit our INFORMATION PAGE.

Your lead instructor for this workshop will be Shelby Sapusek, a certified instructor for the SGIA Digital Color Professional program.
Shelby has more than two decades of design-side color management expertise. She is also certified by RIP manufacturers such as EFI, Onyx and Caldera and has helped organize and/or lead most of the ColorCasters events.
Shelby will be joined by Jim Raffel, an industry veteran with more than 30 years of color experience.
In addition to being certified by SGIA as an instructor for the Digital Color Professional program, Jim is certified by Idealliance as a G7 Expert and Color Management Professional. He is also certified by RIP manufacturers such as EFI, Onyx and Caldera.
So when it comes to inkjet color management, Shelby and Jim have taken the time to learn what they teach. For instance, when not leading ColorCasters' training workshops, you can find them on the road doing color management consulting work with clients.
Shelby and Jim bring more than book knowledge to this hands-on workshop. They bring real-world stories to explain why the best practices are what they are.
Disclaimer:
This workshop takes place in GeckoWraps, Inc.'s production facility located in Las Vegas, NV. The focused, small class setting allows you to master color management. Learn from the industry's top instructors and walk away with confidence and skill. Register now — space is limited. All workshops are taught in English.
Also, to accommodate the PDAA Certification in the same week, the boot camp schedule will be shifted to a 1/2-day Monday (beginning at 1:00 p.m.), and a full day both Tuesday and Wednesday. If you are planning to attend only the boot camp make sure any travel plans you make allow you to be at the workshop until 5 p.m. Wednesday. This will be a full day.
* Make your travel plans with confidence, our workshops are conducted regardless of number of attendees.