Color Management Boot Camps Save Money
Our instructors follow Printing United Alliance's (PrUA) proven course to help you achieve consistent, repeatable and predictable color. During this workshop, you will learn how to make custom profiles for your printing devices which will help save you time, media and ultimately money! Attendees are often surprised at the ink and media savings they realize after attending a Color Management Boot Camp, but we aren't!  Follow the steps below to learn more!
1 Watch this short video for an introduction to Color Management Boot Camp. Then move on to Step 2 to find out more about the workshop.
2 Is Color Management Boot Camp right for you? If you are experiencing any of the issues below, we can help!
Wasted ink and media due to color and other quality issues
Achieving predictable color
Difficulty getting customer approvals for critical brand and spot colors
Unable to produce consistent color
"Learning color management and the science behind it,
not only improves the value you can bring to your clients; it also helps you learn to save ink costs, save time and effectively increasing your overall profit margin. If you're in the print industry, this certification class is something you don't want to miss."
3 Review the course agenda to find out what topics are covered in a Color Management Boot Camp. Click through the tabs to view each day's agenda.
Day 1
9 a.m. – Introductions
* Speaker Introduction
* Workshop Policies
* The Notebook
* Schedule of Events
* Participant Introduction
Basic Color Theory
10:15 a.m. – Break
10:30 a.m. – Lecture: Color Targets and Strategies
* Color Targets
12 p.m. – Lunch
1 p.m. – Lecture and Hands-on: Color Targets and Strategies continued
* Introduction to Media Configuration and measure prints from students (feedback)
2 p.m. – Break
2:15 p.m. – Monitor Calibration
3 p.m. – Anatomy of Inkjet Printing
4:30 p.m. – Lecture: Measurement Devices
* Devices
* Measurement Conditions
Day 2
Day 3
4 Attendees of Color Management Boot Camp get plenty of hands-on experience – including building a custom profile from start to finish! Check out the gallery below for some photos from recent boot camps. (Click to enlarge.)
"At the SGIA Color Management Boot Camp, I learned how to recognize color weakness and how to fix the issue without trial and error. It will save so much time for me to troubleshoot color issues.
I appreciate all the knowledge the ColorCasters team has shared
with me. I've learned so much from you folks!"
5 At Color Management Boot Camp, we set you up for success! Here's a list of everything we provide during the workshop.
And most importantly: Access to PrUA certified instructors!
Registration now includes a 6-month subscription to ProofPass Pro/G7 color verification software and the cost of PrUA Digital Color Professional Certification! Thats a value of:
6 We mentioned the PrUA Digital Color Professional Certification. You might be wondering how that works. Here are the steps:
The 50-question test is taken online. The test questions are randomized but it is open notes. If you pass, you will be qualified.
PrUA will email you a test print that you will color manage and print in your facility. You'll  then mail it back to PrUA.
If your print passes evaluation, you'll be a PrUA Certified Digital Color Professional!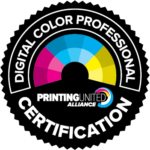 We're happy to help! For more information, please email Shelby Sapusek at shelby@colorcasters.com or call her at 866-91-COLOR.